Start Or Grow Your Business Online With Conversion-Focused Marketing Tools, Education and Opportunity
The Tool Suite: Easy Webpage & Funnel Creation
See How Simple It Is To Create Funnels & Edit Pages Inside of eCreate.it . . .
Step #1
Pick your favorite marketing funnel or page template design
Inside of eCreate.it we have dozens of scientifically proven marketing funnels and templates that you can use for your industry.
Step #2
Modify the pages with your own branding using our simple drag and drop editor!
Just use our proven templates as a model to sell your products!  Quickly replace the logos, videos, products and text with your own, and click publish!
Step #3
Connect your funnel to capture leads or sell your product!
Choose how you want to connect your funnel.  You can use our built-in "Forever Email Marketing" system or connect to your favorite 3rd party service. You can connect to our built-in shopping cart or use your own.  We give you options!
Drag & Drop
Drag and drop dozens of proven sales elements to customize your page even more!
The simplicity of our editor makes it so ANYONE can build a sales funnel or a webpage template.  If you can drag and drop, then you can do this!
Advanced Tools
If you want to customize your page even more. . . you can do that too!
We know some of you out there like to have even more control over your pages so we have several advanced tools that allow you to add custom CSS, adjust colors, padding, and much much more.
All-In-One
Now you can say goodbye to all of your other high-priced marketing tools!
Not only can you launch high converting marketing funnels and pages but you can also replace your website hosting, shopping cart, email marketing, membership site and online course creators with one easy-to-use and affordable tool suite!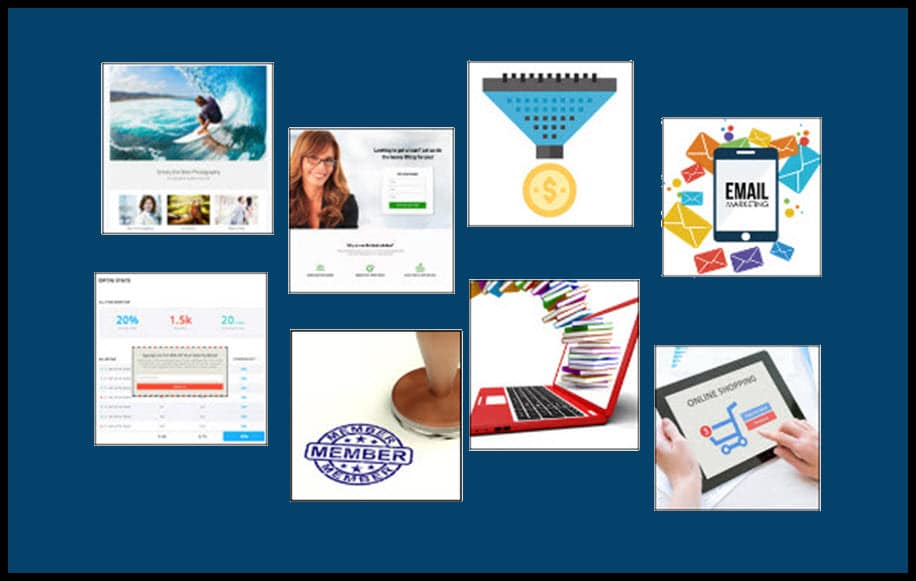 Mobile Responsive
All your funnels and pages are ALREADY mobile responsive. You don't have to worry about it! 
Mobile devices now account for over 55% of all web traffic.  If your site is not setup for mobile, you might as well quit before you start!  Not to worry! With eCreate.it all your pages are mobile friendly from the start to give your customers an awesome experience!
Click & Go Live!
With our simple funnel and page builder, just click PUBLISH and your masterpiece goes LIVE!
See how easy that was?  Don't let technology stop you from your dreams!  Now it's time to get your eCreate.it account and start creating your first winning funnel!
What People Are Saying...
Robert Lapins
Michigan - USA
YES! We practice what we preach! This site was created using The eCreate.it Tool Suite!
 212 E Crossroads Blvd Suite 136, Saratoga Springs, Utah 84045, USA
© 2018 The Info Marketing Group Inc. - All Rights Reserved
30 Day money-back return policy after you have placed your initial order or if you have had a subscription billed on any of our products.  All products ordered are digitally delivered immediately after you order inside the members area.